Thông tin yêu cầu dịch vụ
(Services request form)
CORPORATE SELF BOOKING TOOL
With more than 15 years experience in providing travel management solutions for corporate clients, FLIGHT TRAVEL JSC constantly strives to improve the quality of services, provide effective and innovative management solutions to meet the requirements and development trends of the service industry and the technology industry 4.0.

In the near future, FLIGHT TRAVEL JSC will launch online booking tool product for corporate clients. We will provide online services and tailored solutions for each corporate.
MEETS TEAM BEHIND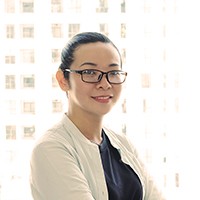 Phan Thị Hoa Quỳnh Anh
Senior Ticketing Manager

With more than 10 years working at FLIGHT TRAVEL JSC and working with corporate clients, we have always listened the requirements and expectations from our customers in different business segments, and from which provide appropriate solutions and service standards. Thereby bringing the highest benefits for customers in optimizing work processes, saving costs and creating the highest satisfaction.